Public Speaking
& Life Coach
I will provide my background of more than 25 years of acting to train you in public speaking. As a coach and trainer, I will be your guide in every area of self-improvement.
Training courses for individuals, live groups, and online
Public speaking makes people anxious. Yet public speaking is a key skill that enables you to create relationships that are useful for your personal fulfillment, your career, and your life.
So if you fear the stage, but you want to persuade people and be more effective with your words, voice, and body language, I'm happy to be your guide.
Request a free consultation with me at this link. We will create a coaching plan together to address your goals and specific needs.
I can work with you one-on-one. I also work in professional and corporate environments. Do you want to grow your team? Contact me.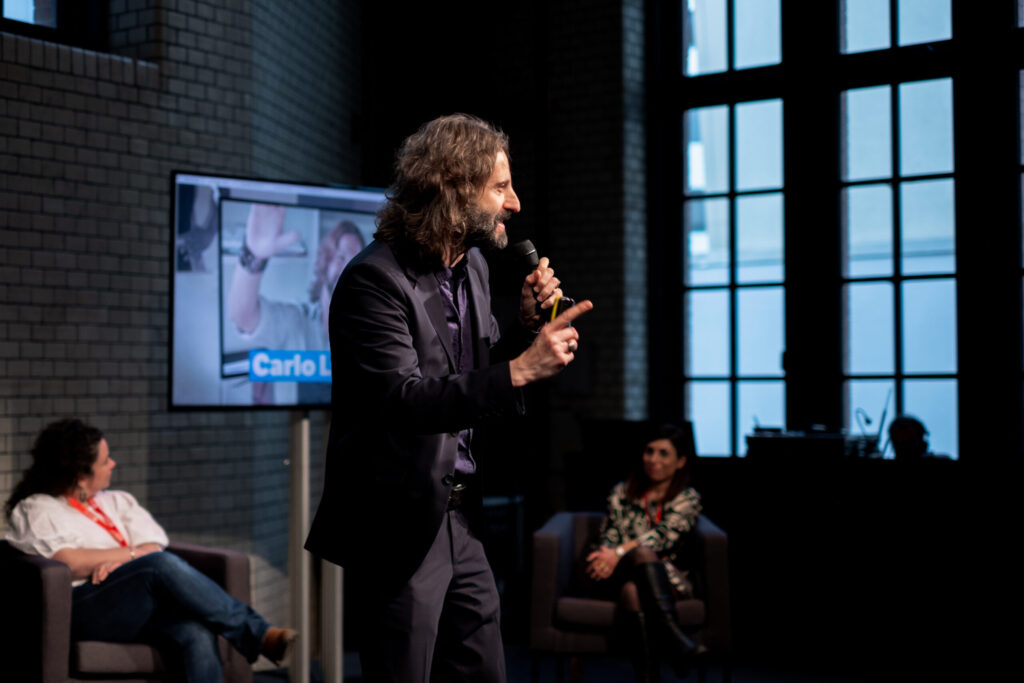 Public Speaking
I will be by your side from the beginning when you are creating your speech. I will guide you step by step leading up to your public presentation. I also offer training courses for groups and companies.
Communicating live and online


Conferences, Meetings, Job Interviews

Ted Talks

Audio/video content production
Life Coaching
Together, we will create a tailored path of personal change and transformation. We will unleash your full potential, overcome your obstacles, and achieve your goals.
Personal growth
Career
Mindset
Self-confidence
Your guide on public speaking, life coaching, mindset and personal growth.
If you want to know more, book a free 30-minute call with me.
Only new actions produce new results. Look up, here we go!
Emanuela Tumolo
LinkedIn Review
I was lucky enough to meet Carlo and work with him on Public Speaking. As UX Researchers I am often called upon to give presentations in front of very heterogeneous audiences: from insiders, to executive teams, from customer support agents to designers... And for each of these audiences it is necessary to find the right language and the correct storytelling. Carlo, with skillful expertise, helped me identify the essential tools to keep the attention of my audience alive and to win (or rather to curb) that impostor syndrome that at some point takes over me. Working with Carlo is enjoyable, stimulating and I can guarantee that you will go home having learned something not only about public speaking but also about yourself 😉
Donatella Maciocia
LinkedIn review
Carlo is a competent, attentive and reliable coach. Thanks to his support I was able to Improve my public speaking skills.
Marta Monelli
Google Review
I had three life coaching meetings with Carlo that gave me important tools and insights on how to implement change and achieve my goals.
Antonio Greco
LinkedIN Review
Today I participated in a Workshop organized by Fabi Bari on "Public Speaking". Coach Carlo Loiudice accompanied us on a path to understanding and improving public speaking. As he himself says, public speaking is art, craft, it's game. It was a moment of growth and fulfillment for me and he was a very good coach. If you have the opportunity, follow him or attend any of his events.
Luigi Larocca
LinkedIN Review
Competence, professionalism, sympathy, enthusiasm, empathy are some of the qualities of Carlo Loiudice. I recently participated in a training day on Public Speaking organized by FABI and conducted with a lot of elegance and skill by Carlo. I have to be honest: it opened up a world for me. Thank you Carlo!
Giuseppe Picerno
Facebook review
Very well prepared coach, his skills at the service of others. The experience lived by him generates results for those who get involved to improve their lives. I recommend it to the big and waiting for an opportunity to be able to work with him again.
Silvia Ventricelli
Facebook review
Last night the public speaking course masterfully held by Carlo ended ... what can I say? Competence, professionalism, effective content. All seasoned and served with wise hands of a man who not only communicates, but arrives straight to the heart, to the belly. The next morning, you are no longer the same. The art of theater has formed him very well. Hours of course without ever a moment of boredom. Thank you Carlo! Now it's up to us, with exercise, to put it into practice!
Shlomi Moto Wagner
Facebook review
Carlo is a wonderful life coach. I got Carlo's help during this past year as he helped me in realizing new paths in my life and achieve them in a very conscious yet intuitive way. I highly recommend working with Carlo who is gifted with his ability to bring light into confusing situations and establish a strong sense of clarity. Thank you Carlo! 🙂
Denitsa Mineva
Facebook review
Carlo is an amazing life-coach I highly recommend. He is very patient and provided me with a lot of understanding, positivity and guidance thanks to which my life now is better organised and less stressful. After each session with Carlo I felt empowered and excited to apply what I had learned from him to my life. I am very grateful. 5 stars!
Isla McLachlan
Facebook review
Carlo has been amazing at helping me to embrace my voice and improve my confidence and presence when talking in front of a camera. Not only has he given me some useful breathing exercises and explained all the tools behind what makes an effective speaker, but we also did practices together ,which was so helpful. He is attentive and gave me on my appearances on social media between calls. I used to have social anxiety and a big fear of public speaking and now feel so much more at ease in speaking to a camera. Carlo is supportive and makes the sessions fun and engaging. I would highly recommend Carlo to anyone wanting to improve their confidence with public speaking or to take their public speaking to the next level.
Philippe Benedetti
Facebook review
Why Carlo Loiudice?
Because he knows how to do his job
He will know how to give you what you need
Courage
Confidence
And method
Thanks Carlo
Filippo Fiorenzo
Facebook review
Really recommended course!!! In a few hours, Carlo manages to provide all those useful elements to capture attention, conquer a audience, learn to build an excellent speech by becoming empathetic and protagonists of the stage. Obviously, it is then up to each of us to practice so much to acquire that confidence and mastery, in order to manage and control the number one enemy of public speaking, that is anxiety.
Pasquale Romito
LinkedIn review
Carlo is truly a professional, very well prepared, and he immediately knew how to put me at ease and understand, perhaps better than I did, what I needed and what I should work on to achieve the goals I had set for myself and to regain the confidence and determination that had been somewhat lost along the way. I am really happy to have discovered not only Life Coaching but also Carlo specifically, it is a path that I recommend to everyone I talk to about it, I believe it is a truly fundamental experience that should at least be tried.
Francesca Dicecca
LinkedIn review
I had the pleasure of meeting Carlo by enrolling in one of his public speaking courses. An interesting and stimulating workshop, which can really make a difference in terms of professional growth, thanks to its guidance, prepared and passionate. Carlo has since become the coach of choice for job training at the Colla coworking centre, where in addition to public speaking he also does life coaching; both appointments, among the most popular and requested.
Nicola Carboni
LinkedIn Review
I didn't think I was capable of public speaking, Carlo changed my mind. It's something you can really learn from a professional like him. Thanks to 5 meetings we were able to structure the presentation together, find the right rhythm and above all create a speech capable of exciting the audience. My presentation was a success.
Maristella Ragusa
Google My Business Review
I met Carlo through his Podcasts that struck me right away. Shortly thereafter I decided to start a coaching path that helped me clarify my life and work on my Mindset. He is a professional! Thanks Carlo
Noemi Pino
Google My Business Review
I had the pleasure of meeting Carlo, through his podcasts which are really fabulous! And I advise everyone to listen to them, and in a second time through a workshop I WANT TO CHANGE. This workshop really gave me the right charge to start my projects. I have learned so much from his words, that they are in my mind and in my heart and not only! I made friends with everyone in the group we finally created! I finally have my buddy that I love so much! And I think we will support each other. So I just have to say THANK YOU for everything you do, Carlo. THANK YOU for your words and your professionalism. I recommend everyone to have a session with him because it really changes your life perspective and makes you grow so much!
Hellen Bolzoni
Google My Business Review
Really beautiful and superformative experience. The I WANT TO CHANGE webinar offered me many food for thought and tools to be able to plan the new year, identify goals and chart the way to achieve them. In addition to offering me the opportunity to meet and compare myself with other people who, like me, in this 2022 want to make a difference. What about the coach? Professional, helpful, clear, motivating... for me super!!! I recommend everyone to live this experience. Follow him on social media and look for his courses on Udemy. Un grande coach, ne vale la pena.
Giuseppe Galetta
Google My Business Review
I attended the course with two of my friends. We were all more than satisfied and happy to have attended you. I will definitely give the course to my loved ones. Thanks to Carlo, helpful and professional coach!
Xila77
Google My Business Review
Very interesting path, full of food for thought to improve your Mindset and to focus on your goal. Moreover, the rapporteur is a guarantee. I highly recommend
Carmela La Spina
Google My Business Review
Carlo Loiudice is an amazing life coach. He helped me with the planning of my business so much! Without him and his very good advice I couldn't reach my goals. Thanks a lot!